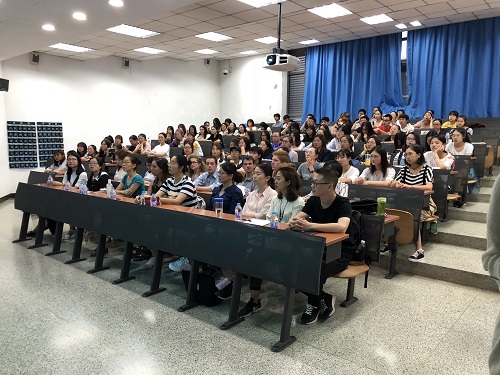 At 18:30 on September 6, 2018, the School of International Sports Organizations held a meet & greet event between teachers and students of class 2018 in Classroom 214 and Classroom 215 in the teaching building. Tian Hui, dean of the School of International Sport Organization, Dai Xu, deputy secretary of the general Party branch, and Zheng Hui, deputy dean attended this event. Counselor Diao Aili, representatives of freshmen and teachers of each language, and all undergraduates and postgraduates of class 2018 participated in this event. This event was hosted by Hu Xu and Ou Xinrong in English.
First, Professor Tian Hui, dean of the School of International Sports Organizations, welcomed the arrival of the freshmen in English. She encouraged the students to study hard and cherish the university time. Every classmate who was present benefited a lot, and thunderous applause sounded at the scene. Then, the teachers of each major introduced themselves and related courses, including teaching content and teaching mode, so that the students had a preliminary understanding of the upcoming professional courses.
Cheers and applause came one after another. During this first meeting, teachers showed their expectation on the new students, and the students looked forward to the upcoming study life. May all new students of class 2018 create brilliant achievements in foreign language in the next four years.
This event was successfully concluded with warm applause. Good times are always short. We believe that both teachers and students look forward to the upcoming class, and expect to learn together with each other. We wish that all of the students will stay true to the original self and become better.